FEATURED /// Feb 22, 2022
MILCON vs. TLS: Comparing Procurement Timelines

MILCON vs. TLS: Comparing Procurement Timelines
The Lengthy MILCON Process
Like many of the Department of Defense's standard operations, the military construction (MILCON) funding process is complex, involves multiple moving parts, and must go through various steps that can become quite lengthy and jeopardize the initial purpose of the construction project.
Before construction of a MILCON project can even begin, construction agents or field engineering offices must prepare, advertise, evaluate, and award design and construction contracts through a specific Request for Proposal (RFP) process. This process can last for months or years.
Construction of a MILCON project involves several phases itself, referred to as the design-bid-build process. In design-bid-build, each phase is conducted under its own specific contract. First, an architectural or engineering firm is awarded a contract for planning and designing the project. Then, a new construction contract is shopped for bidding on by general contractors, who in turn often advertise their own second or third-tier subcontractor quotes on specialty items they might need for the build. Finally, construction – which may take up to two years or more – can begin.
According to the Congressional Research Service's report Military Construction: Authorities, Process, and Frequently Asked Questions, "…projects generally span five to seven years from the time a [project] is approved, to the date the project is completed."
A slide from the United States Air Force showing what a notional MILCON project can look like puts the minimum time of completion at five years – which doesn't account for the years this project sits on a wish list before finally being considered.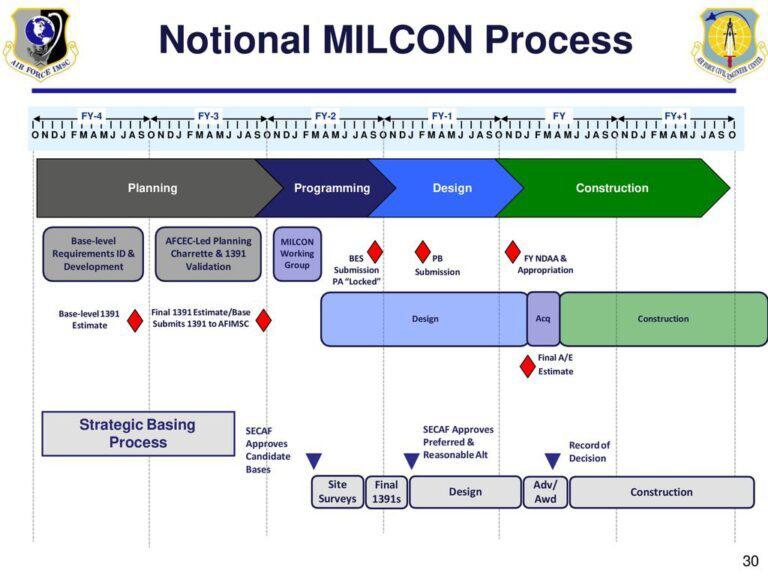 It's understandable, if frustrating, why the MILCON process takes so long to complete; the DOD must ensure they're funding valuable projects that further their goals. However, some missions require immediate action and can't afford to wade through the bog of the MILCON process.
And they don't have to thanks to the TLS program.
The Fast and Affordable Tailored Logistics Support Program
The Defense Logistics Agency's (DLA) Tailored Logistic Support (TLS) program is a fast and affordable solution for rapid procurement of commercial products that fall within the program's scope.
With a TLS contract, authorized government agency customers are allowed to allocate funds outside the standard MILCON process to rapidly acquire equipment or services necessary for their success.
The TLS program is the perfect solution for quickly installing semi-permanent structures without waiting for MILCON funding. The TLS program allows ADS to design custom shelter solutions based on our client's specific requirements, budgets, and timelines to ensure they receive exactly what they need. We combine the industry's top vendors with rapid procurement to create a built-to-order product in a fraction of the time a typical MILCON project takes.
Our structures must be fully relocatable to fall under the TLS program, meaning no major groundwork or site improvements can be performed. Although we call them semi-permanent, all our structures and shelters are of the highest quality and can stay in place for up to 50 years with no zero issues. The relocatable nature of these structures means we can install them in rapid time after the initial order.
The TLS program is not only quick, but it provides customers with the freedom to select the exact equipment and manufacturers they want to work with. This is a stark contrast to the MILCON process that generally accepts the lowest bid to save on funds.
Our shelter solutions are sure to satisfy almost any request and include the following types of structures:
Large Areas Facilities
Modular Facilities
Containerized Structures
Flat Pack Facilities
Special Systems
Hangars
Warehousing and Storage
Sun Shades
Offices
LAMS
OFACS
MOUTS
Billeting
Maintenance Facilities
Drive Through Shelters
Recreation Structures
TLS and ADS in Action
The 58th Rescue Squadron
The Air Force's 58th Rescue Squadron located at Nellis AFB needed a shade shelter to protect their personnel and equipment from the harsh Nevada elements. ADS partnered with Brite Rigid Frame Buildings to provide several frame system options based on the squadron's mission requirements and budget. The unit command chose a rigid I beam frame shelter system with a Berry Amendment Compliant fire-rated PVC membrane for additional protection.
The 58th Rescue Squadron identified an issue, sought a solution, and received exactly what they needed in only two weeks.
Camp Bullis
Joint Base Camp Bullis in Texas was in need of latrine facilities for their remote training sites. Teamed up with Expeditionary Building Systems, ADS helped deploy 240 latrine units to Camp Bullis. These containers are stand-alone units that connect to an already-installed Sto-Away Microgrid and include full HVAC, toilets, and urinals. Each latrine is set up with water tanks, pumps, and waste tanks. These units are fully stand-alone from any existing utilities at the remote training site.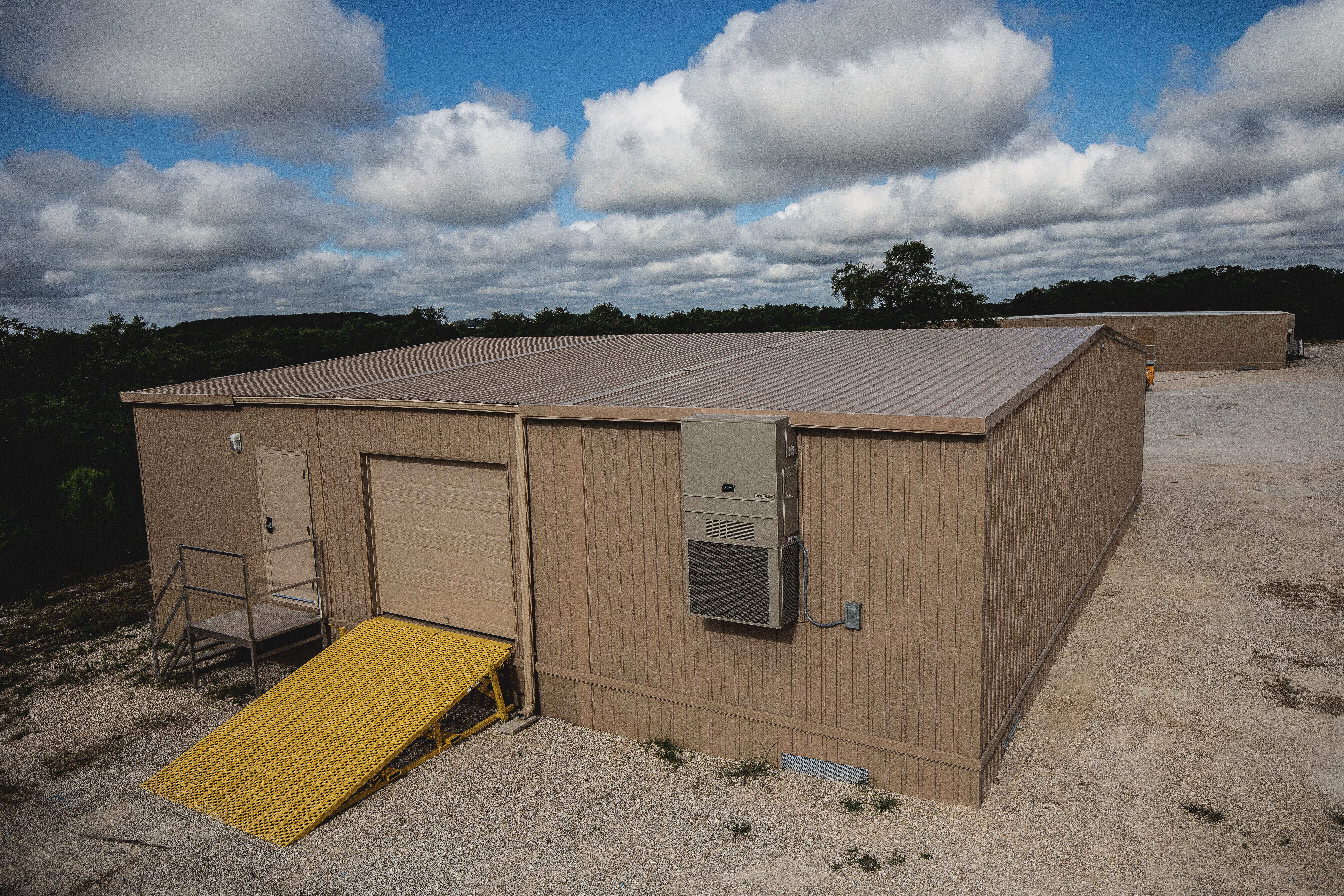 It only took 90 days from the day the contract was awarded to complete the installation of 240 fully functional, stand-alone latrine units.
Don't let the lengthy MILCON funding process hinder your mission's success. Contact us today to learn more about our rapidly deployable shelter solutions.