FEATURED /// Mar 01, 2022
Bren-Tronics: Military Batteries for the Modern Soldier

Bren-Tronics: Military Batteries for the Modern Soldier
Bren-Tronics Batteries
It was 1973, and Leo Brenna struggled to decide which business venture he wanted to pursue. After weighing the pros and cons of each project but still unable to make his decision, Leo did what so many have done before – he flipped a coin. Heads or tails. Flashlights or batteries. Leo had his answer when the coin landed in his palm. Thus, the Bren-Tronics battery company was born.
A proud Vietnam veteran, Leo set out to produce high-quality batteries that delivered reliable power to both military and industrial operations where failure was not an option. When Operation Desert Storm revealed the limitations of primary batteries, Bren-Tronics helped lead the charge in secondary (or rechargeable) batteries that could meet the power needs of troops on the ground while reducing their logistics load.
From those early rechargeable batteries to today's lithium-ion systems, Bren-Tronics continues to engineer solutions that deliver the staying power of primary cell batteries with the extreme reusability that the modern military demands.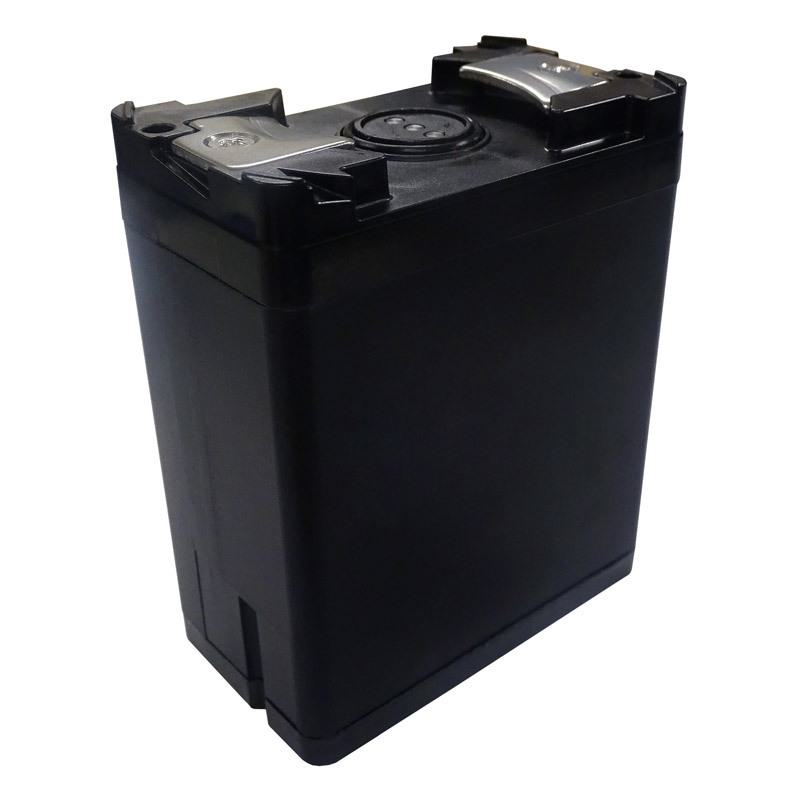 The BT-70716 battery is the best AN/PRC-148 battery built today. At only 3.4 inches high and 2.8 inches long, the BT-70716 lithium-ion rechargeable battery packs a powerful punch in its small frame. At eight amps, the BT-70716 not only meets and exceeds all military rechargeable durability specifications, but it also has a run time 40% longer than other standard AN/PRC-148 batteries, meaning this Bren-Tronics battery can be depended upon as long as the mission lasts.
BT-70716s are compatible with more than just the AN/PRC-148 radios. These batteries are typically used in:
AN/PRC-148 (all variants)
Wave Relay System (all variants)
TRC-9110
Silvus StreamCaster 4200
BT-70939 – 6T Battery
When you think of lithium-ion, you most likely think of batteries for small handheld devices used around the house. Bren-Tronic's BT-70939 24v 6T lithium-ion battery defies those expectations.
Designed primarily to power vehicles, the 6T battery comes in both Power and Energy variations. The 6T Energy version has a high output of 3.2 kWh, while the Power version outputs 2.7 kWh and exceeds the MIL-STD-1275E cranking requirements.
This lightweight battery's long lifecycle is perfect for powering vehicles over time and through extreme weather conditions without having to be regularly replaced, providing the military with reliable and rechargeable power for their transportation needs. The 6T offers twice the energy and half the weight compared to other lead acid models.
Like the radio battery above, the 6T is a versatile product typically used in the following applications:
Tactical/combat vehicles
Silent watch
Robotics
Unmanned vehicles
Weapon systems
Hybrid power systems
BT-70791 – BB-2590/U Battery
Used in more than 100 devices, the BB-2590/U battery is the most widely used military battery in the world. Used by both NATO and American forces around the globe, the BB-2590/U provides power to communication equipment, sensors, surveillance equipment, thermal imagers, and more.
Bren-Tronic's BT-70791 line of products is home to one of the highest capacity BB-2590/U batteries on the market today – the BT-70791JV rechargeable lithium-ion battery. The JV model was designed, manufactured, and tested to MIL-PRF-32052/1 for the most rugged of missions that require long-lasting power. They're also SMBus v1.1 and SBData v1.1 compatible.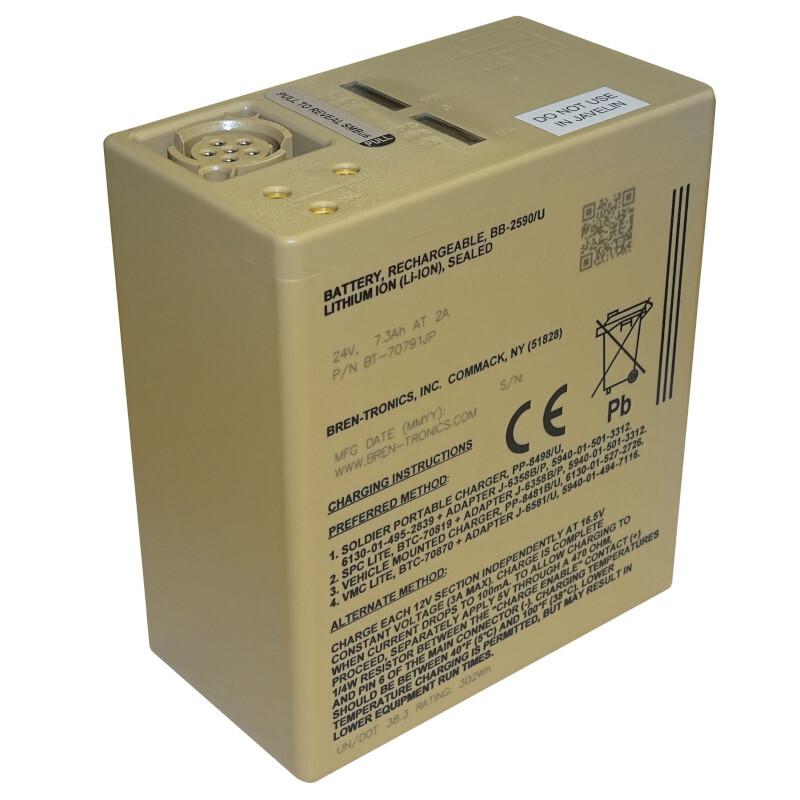 The JV model stands out for its high capacity (10.3Ah in 24V mode and 20.6Ah in 12V mode), Department of Defense certification for military use, and versatility.
The BT-70791 battery is used in more than 100 different devices today, including the following:
Robots
Surveillance/Sensors
SINCGARS and ASIP (AN/PRC-119) radios
FALCON (AN/PRC-150, 117) radios
Advanced Battery Charger (ABC)
Bren-Tronics is not only leading the charge in rechargeable batteries – they're also producing some of the best charging stations available.
The Advanced Battery Charger (ABC) is a lightweight, rugged, portable charging station that provides state-of-the-art performance and minimizes the time required to charge a wide range of the military's most commonly used batteries. With four adaptor ports providing eight independent charging channels, the ABC can recharge multiple batteries (and multiple battery types) at the same time. Depending on the type, the ABC can simultaneously charge up to 16 batteries from over 100 different battery types.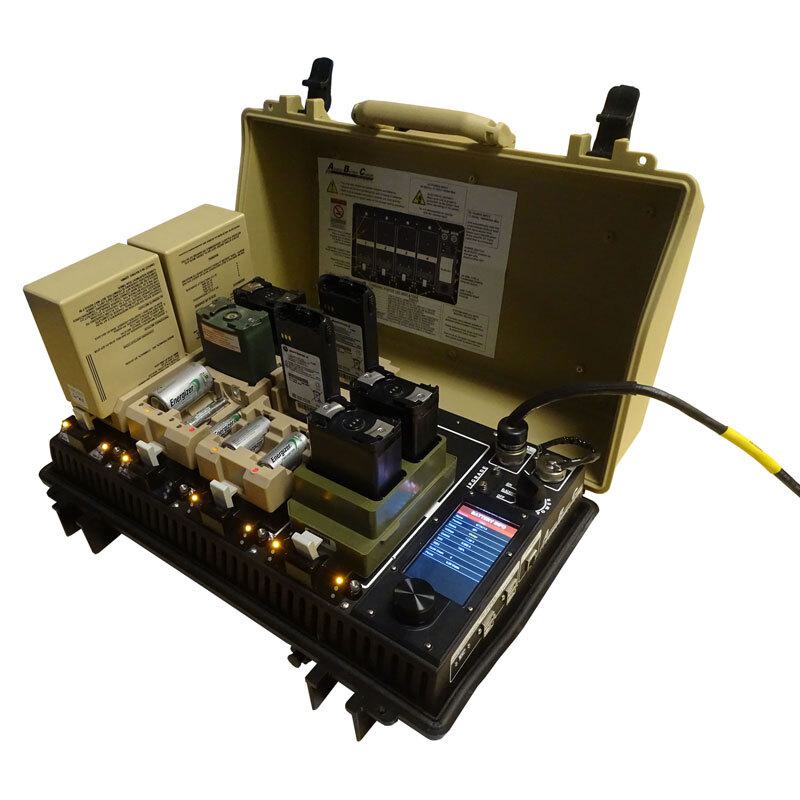 A variety of adaptors (including legacy SPC adapters) allows the ABC to be customized for specific charging requirements. The ABC can be used with the following adaptors:
Standard
BTA-70100-1
BTA-70100-1A
BTA-70100-2
BTA-70100-3
Specialty
BTA-70100-148
BTA-70100-152/163
BTA-70100-8
BTA-70100-838
BTA-70100-909
BTA-70100-910
BTA-70100-DCB
Also included on the ABC are upgrade ports for future battery compatibilities. The ABC is not only convenient and adaptable, but it also charges extremely quickly:
Up to 8 BB-2590/U in < 3 hours
Up to 8 BB-2557/U in < 2 hours
Up to 16 AN/PRC-148 in < 2.5 hours
Up to 16 AN/PRC-152 in < 2.5 hours
Up to 16 AN/PRC-163 in < 2.5 hours
Up to 16 CWB in < 2.5 hours
Want to learn more about Bren-Tronics batteries or how ADS can help you find the perfect power solutions? Contact us today.