FEATURED /// Jul 15, 2021
Miles in their Boots

ADS DUO WALKS 60 MILES IN 24-HOURS TO REMEMBER FALLEN DURING ANNUAL TACP MEMORIAL IN GERMANY
U.S. Air Force Tactical Air Control Party specialists are some of the most elite, highly trained forces in the world.
They embed with Army and Marine units on the frontline and are charged with the huge responsibility of calling in air strikes. The physical, mental and technical demands of the job are as immense and obvious as they are dangerous. And like so many of our brave American warriors, not all of them come home.
In late June, members of this small, elite group gathered at Ramstein AFB in Germany for the 10th Annual TACP Association 24-Hour Challenge Memorial Event. The grueling, 24-hour walk is held each year to remember fallen TACP members while raising money and support for the TACP community.
What better event to introduce two of our newest employees to the ways of Atlantic Diving Supply, and our company's never-ending mission to serve the military community that so bravely serves us. Cocktail parties? Golf outings? They can wait.
The Event
Justin Manalli, our new Regional Account Manager, USAFE, and Jimi Partyka, our new Regional Account Manager Europe, had both been on the job for only a matter of months when they first met up at Ramstein on June 23.
"It was a hot and sunny, lemonade-drinking, bright blue-sky kind of summer day," Justin remembers. And neither had any idea what to expect.
Both were proud veterans (Justin, Army; Jimi, Navy), and they enrolled as a two-man team in the event. Dressed in matching black ADS T-shirts, tactical pants and boots, they walked, ran and rucked for 24 hours straight on a rubberized 2-kilometer-long track alongside everyone from ranking enlisted members to top-ranking Officers.
At the front of the group, one member carried a flag to symbolize the need to carry on the fight and honor their fallen. As the hours and miles ticked by, the duo's decision to join ADS Europe would only be cemented further.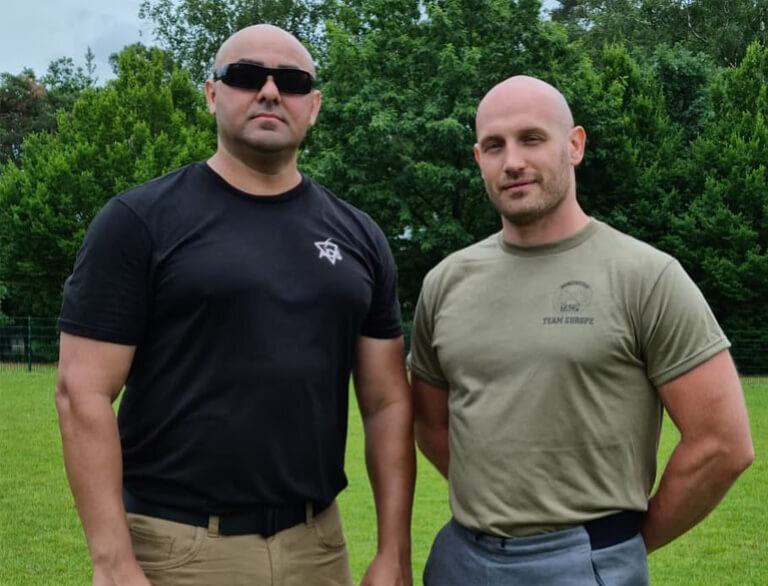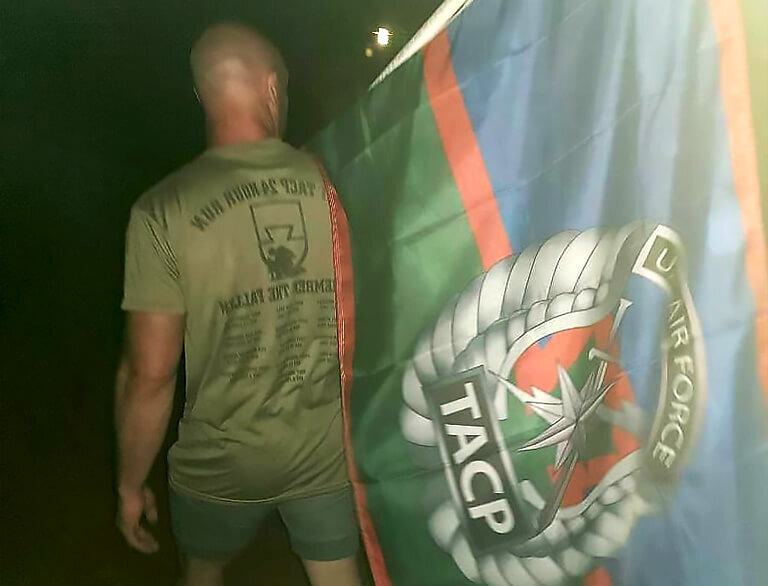 Slowly, the hot, sunny day turned into a long, rainy night, and by about 3 a.m., "after several soggy hours walking and talking (and sometimes running) alongside some of the best people one could ever hope to meet," Justin was invited by one of the Lieutenants to carry the flag.
"I was incredibly moved and honored, and dutifully accepted," Justin recalled. "As I carried the flag, a reverent silence fell over our small group, and those next four laps around the track have been burned eternally into my memory."
The event would end the same way it started. The group formed a PT circle and did push-ups in cadence. For every push-up, the name of a fallen TACP warrior was called out to the heavens.
They remembered every one of them.
Mission Accomplished
With closing statements done, all that was left was to announce who raised the most money and who walked the most miles.
The winner of the 2-man team event?
That went to our guys Justin Manalli and Jimi Partyka. Over 24 hours, the pair walked just over 60 miles -- more than any other team at the event.
Yet both will tell you they won far more than a walking test that day. It was a 24 hours they'll never forget.
Congratulations, guys. Thanks for making us all proud.
Our site uses various cookies to improve your experience. Cookies may collect your personal information, such as IP address or device identifier, which we may share with our analytics and advertising partners. You may opt out of certain cookies if you wish, and doing so may limit some features of the site.
Strictly necessary cookies are required to enable the basic features of this site, such as providing secure log-in or adjusting your consent preferences.
Functional cookies help perform certain functionalities like remembering your preferences and settings.
Performance cookies are used to understand and analyze the key performance indexes of the website, which helps in delivering a better user experience for the visitors.
Analytical cookies are used to understand how visitors interact with the website. These cookies help provide information on metrics such as the number of visitors, bounce rate, traffic source, etc. Personal information obtained from these cookies may be shared with third party analytics partners.
Advertisement and Targeting cookies are used to provide visitors with customized advertisements based on the pages you visited previously and to analyze the effectiveness of the ad campaigns. Personal information obtained from these cookies may be shared with third party advertising partners.