FEATURED /// Jul 20, 2021
Life Goals

2008 Olympian Kate Kinnear continues to serve the Red, White & Blue at Atlantic Diving Supply.
Dedication.
Energy.
An endless drive to perform at the highest level.
For Olympian and current Atlantic Diving Supply Vice President of Contracts Kate (Barber) Kinnear, they're words that can equally describe the mission of a world-class athlete and every ADS employee.
And those same words are also why, after nearly two decades, she still loves coming to work at ADS every day.
"It's the mission at ADS that I enjoy the most," says Kinnear, a former University of North Carolina star who some 13 summers ago captained the U.S. Women's Field Hockey Team at the 2008 Beijing Olympics. "I love that the people here at ADS are extremely hard working and competitive, in a positive way. As an athlete for so many years, I thrive in that kind of environment. People are here all hours of the day, and you can just feel the energy."

One of the most decorated players in University of North Carolina field hockey history, Kate first arrived in Virginia Beach in 2001 to train with the U.S. Women's Field Hockey team. She met her future husband, Glenn Kinnear, soon after she arrived. Glenn had just gotten out of Active Duty, and was working as an independent rep at Under Armour and a tiny Lynnhaven dive shop called Atlantic Diving Supply. She landed a part-time job at the dive shop, too, earning extra part-time cash filing, invoicing and doing odd jobs.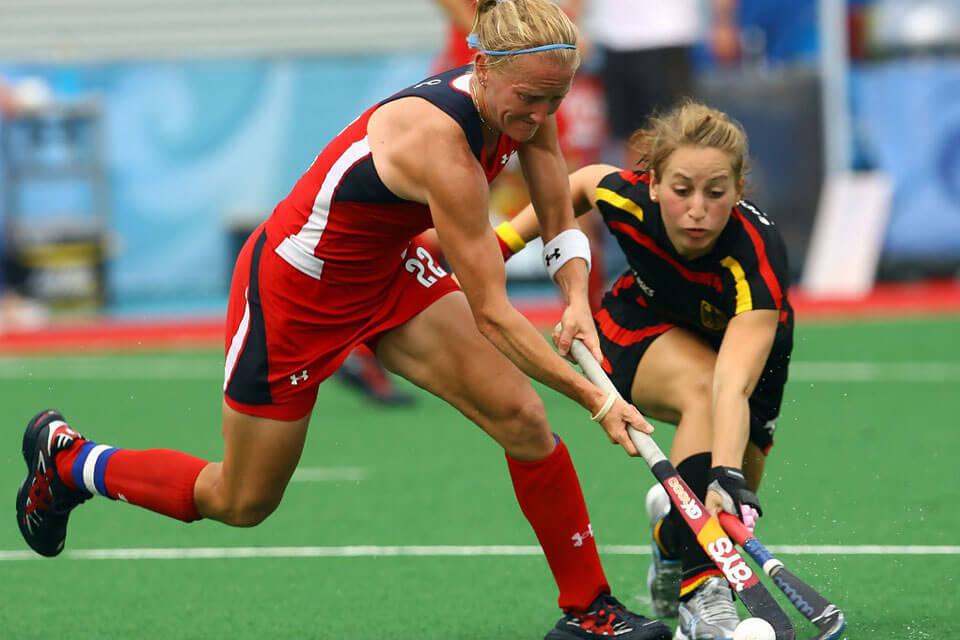 Together, they were on a mission, as Kate continued to work at ADS and train with the U.S. National Team. By the time she retired from playing field hockey just after the 2008 Olympics, Kate was handling some of our largest contracts. With her field hockey career over and ADS quickly expanding into different verticals, Kate agreed to join our Contracts team full-time, and to our company's great fortune, she never left.
"I majored in exercise and sports science at UNC, so I never thought I would be in government contracting," she says. "But my passion for the Red, White and Blue translates well to my job here, where we make sure the men and women of the U.S. military have the tools and equipment they need to do their jobs and come home safe."
Building a career and training as an Olympic athlete didn't always go hand in hand, of course. Training for the 2008 Olympics, for example, meant she had to temporarily relocate to California. Around the same time, Glenn was called back to active duty and served 15 months in Afghanistan. The challenges would be immense for any young couple. But through it all, Kate remembers ADS being fully behind her every step of the way, allowing her to work remotely with flexible hours so she could realize her Olympic dreams.
Fast forward to today, where after being promoted to Senior Contract Manager, Kate now serves as our Vice President of Contracts. Glenn, after retiring from Active Duty, works in program management running standalone contracts. The couple has 3 children -- a 10-year-old girl, and two boys, ages 9 and 10.
So what's changed at ADS since Kate took the job at that little dive shop almost 19 years ago?
Everything. And nothing at all.
"The energy and passion that was there at the start is still what drives the company today," Kate says. "The innovation has transcended over the years, of course, but what hasn't changed is the buzz you get when you see an order come through, it gets delivered and then you hear the customer feedback, how they couldn't have done it without us. If they need a pair of boots, we'll make sure they get it. Make sure we meet those contract requirements and we do it the right way. That means everything to me."
Our site uses various cookies to improve your experience. Cookies may collect your personal information, such as IP address or device identifier, which we may share with our analytics and advertising partners. You may opt out of certain cookies if you wish, and doing so may limit some features of the site.
Strictly necessary cookies are required to enable the basic features of this site, such as providing secure log-in or adjusting your consent preferences.
Functional cookies help perform certain functionalities like remembering your preferences and settings.
Performance cookies are used to understand and analyze the key performance indexes of the website, which helps in delivering a better user experience for the visitors.
Analytical cookies are used to understand how visitors interact with the website. These cookies help provide information on metrics such as the number of visitors, bounce rate, traffic source, etc. Personal information obtained from these cookies may be shared with third party analytics partners.
Advertisement and Targeting cookies are used to provide visitors with customized advertisements based on the pages you visited previously and to analyze the effectiveness of the ad campaigns. Personal information obtained from these cookies may be shared with third party advertising partners.